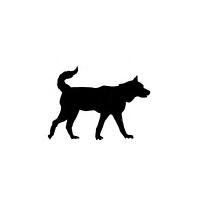 What are some of the benefits to walking your dog???

-If you are away all day and come home to find your so-called-companion has eaten your curtains, sofa, shoe, and soiled your carpet. This is usually due to excessive energy, a lack of focus (on their own toys) and/or separation anxiety.
Walking will let out a lot of this extra energy. Without the unwanted energy, your pet will more calm and focused.
-Sometimes pet classes and training efforts don't have the best outcome. Why? Your pet has a lot of
EXCITED ENERGY
. Almost too much to be able to focus on the task at hand. As a trainer, I always had my students walk their dogs before they came to class.
-There are times and/or circumstances in which you will want or need to be away from home for a few days at a time. Hiring a dog walker (pre-travel) will help your pet become more agreeable with pet care specialist. So when you have to hire a pet sitter or take your pet to a boarding kennel, your pet will much less stressed, and more comfortable with his/her temporary surroundings, allowing you to relax, knowing your pet will be at ease.
-Do you leave your pet on a chain, or in a pen (kennel or crate) while you are away? As it is always good to kennel train your pets, this option should be left for situations such as travel, going to the groomer or vet, boarding, or avoiding certain company. Not to keep your pet from soiling or destroying your home. That is their home too.
Crating, or chaining your pet can sometimes lead to even more excessive energy, and even mental stress, which will lead to other problems, possibly even aggressive behavior.
-There is nothing that a groomer likes more than to have an agreeable dog on their table. Your pet has to do quite a bit of waiting and putting up with loud or strange noises. Your dog will be able to handle these conditions while they are calm and not energized.
If you live in an apartment, condo, small house or assisted living area, you are probably limited in places you can walk or play with your dog. Letting us walk your dog for you will help significantly, and you pet will be healthier and happier for it too.
At the request of a pet parent, we may also take your dog on a field trip to the vet. While there, we will let them sniff, listen to the sounds and get a treat from the staff members. This will help your pet not only get used to vet visits, but also help them become more comfortable in strange settings or situations.
The benefits to walking your dog for 1-3 hours a day are quite plentiful and never hurts anyone. You can contact us or one of the many dog walkers in your area. There is also a link to help you find a dog walker near you on our
references page
.